About Us
•
The ALICE Movement
About Us • The ALICE Movement
Leading the Charge
United Way of Northern New Jersey founded, fuels, and partially funds United For ALICE
United For ALICE has grown from a pilot project in Morris County, New Jersey in 2009, to the entire state of New Jersey in 2012, and now to the national level. United Way of Northern New Jersey spearheads this effort, led by:
Kiran Gaudioso, Chief Executive Officer, United Way of Northern New Jersey
Stephanie Hoopes, Ph.D., National Director, United For ALICE
To learn more about the history of United For ALICE, click here.
A Growing Movement
United For ALICE has grown to include partners in half of the U.S. states — and counting: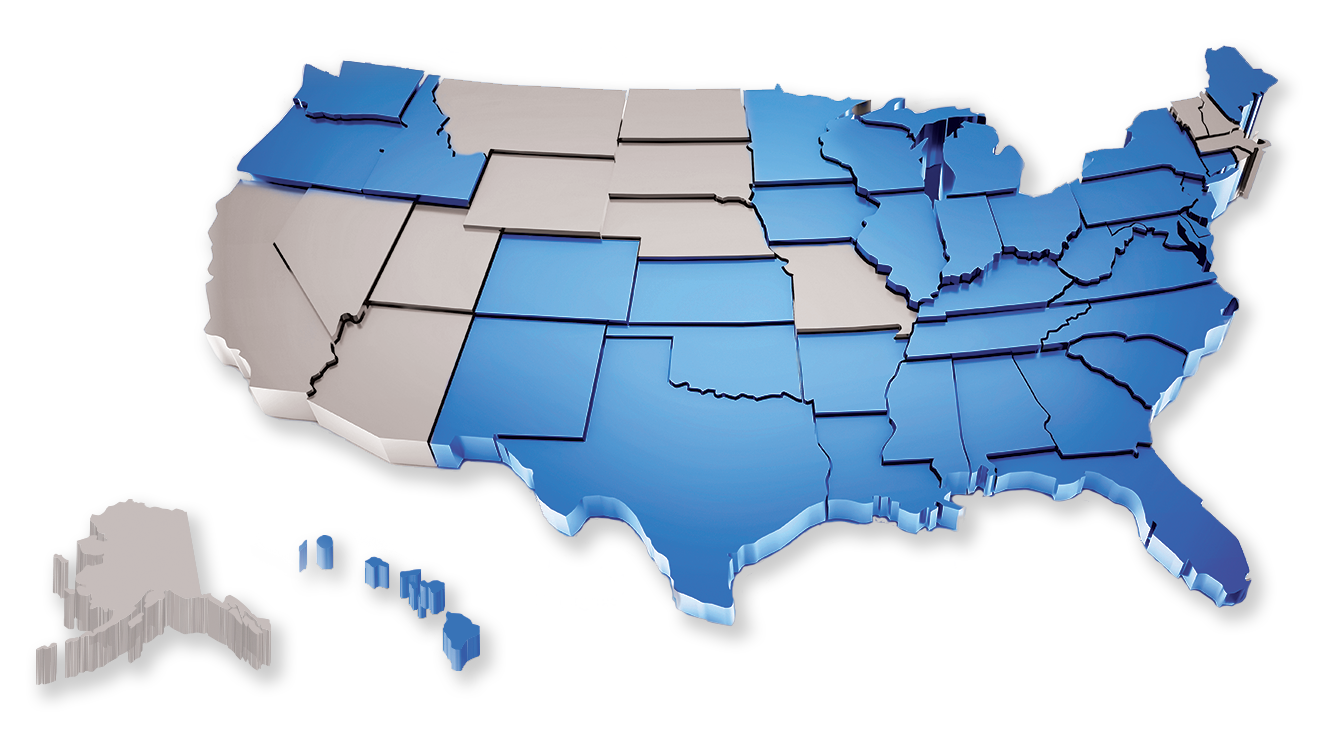 Our network of local partners work to integrate the ALICE research into local, state, and national communities.
Liaisons responsible for bringing ALICE to their respective states include:
Arkansas: Shantell Hinton Hill, Winthrop Rockefeller Foundation, and Abby Hughes Holsclaw, Proper Southern Strategies
Connecticut: Lisa Tepper Bates and Amy Casavina Hall, United Way of Connecticut
Delaware: Dan Cruce, United Way of Delaware
District of Columbia: Scott Mengebier and Nedelka Phillips, United Way of the National Capital Area
Florida: Melissa Nelson, United Way of Florida
Georgia: Christine Reeves Strigaro, United Way of Georgia
Hawai'i: John Fink, Aloha United Way
Illinois: Eithne McMenamin, United Way of Illinois/United Way of Metro Chicago
Indiana: Michael Budd, Indiana United Ways
Iowa: Kelli Soyer, United Ways of Iowa
Kansas: Lisa Gleason and Gayle Ausmus, United Ways of Kansas
Louisiana: Sarah Berthelot, Louisiana Association of United Ways
Maine: Courtney Yeager, United Way of Kennebec Valley
Maryland: Franklyn Baker and Laura Johnson, United Way of Central Maryland
Michigan: Nancy Lindman and Mike Larson, Michigan Association of United Ways
Mississippi: Michele Connelly, United Way of West Central Mississippi
New Jersey: Kiran Gaudioso, United Way of Northern New Jersey
New York: Hugh Parry, United Way of New York State
Ohio: Lisa Courtice, United Ways of Ohio
Pennsylvania: Kristen Rotz, United Way of Pennsylvania
Pacific Northwest (Idaho, Oregon, Washington): Jim Cooper, United Ways of the Pacific Northwest
Tennessee: Mary Graham, United Ways of Tennessee
Texas: Roxanne Jones, United Ways of Texas
Virginia: Janel S. Donohue and Sarah Walsh, Rappahannock United Way
West Virginia: Brett White, Tygart Valley United Way/West Virginia United Way Cooperative
Wisconsin: Charlene Mouille, United Way of Wisconsin
Contact us to learn more about bringing the ALICE movement to your state.
Partner State Report Sponsors
Many companies and foundations join the United For ALICE movement by supporting the development and proliferation of the ALICE research in one or more states. Thanks to the generosity of these organizations, the research has expanded, and the movement to remove barriers that limit the financial stability of the ALICE population is growing.
Current Partner State Report Sponsors include:
Ascension Saint Agnes Foundation
Atlantic Union Bank
Ausherman Family Foundation
Avista Foundation
Bank of Hawai'i Foundation
BEACON
Claude Worthington Benedum Foundation
Community Foundation of the Eastern Shore
Compare.com
Consumers Energy
CSEA (Civil Service Employees Association)
Delaplaine Foundation, Inc.
Delaware Department of Health and Social Services
Entergy
GoWest Foundation
Greater Washington Community Foundation
GreenState Foundation
Hawai'i Community Foundation
Hawai'i Pacific Health
HEI Catalyst For a Better Hawai'i, Hawaiian Electric, American Savings Bank
Highmark West Virginia Charitable Fund for Health
Hawaii Medical Service Association
Idaho Nonprofit Center
IDEAL Industries Foundation
Kaiser Permanente
Kiley Juergens Wealth Management LLC
Leidos Biomedical Research, Inc.
Liberty Bank
Locations Foundation
NBT Bank
Oregon Community Foundation
RWJBarnabas Health
Tennessee Afterschool Network
The Ford Family Foundation
The Virginia Foundation for Community College Education
Turning Point Financial
U.S. Venture/Schmidt Family Foundation
W.K. Kellogg Foundation
WaFd Bank
Winthrop Rockefeller Foundation
WSECU
Contact us to learn more about sponsorship opportunities.